Atlas Olive Oils is now "CO2-NEUTRAL COMPANY"!
We have always been committed to sustainability and now Atlas Olive Oils is indeed a "CARBON NEUTRAL COMPANY" as a sign of our commitment to environmental protection. This means, our activity absorbs more CO2 than what it releases into the atmosphere, and we aim to achieve a fixed reduction in emissions along the entire value chain. We know this is an ambitious target, but it's our way to contribute to climate change mitigation.
Following a dedicated 10-years-long program, ATLAS OLIVE OILS met its main environmental sustainability goal of producing carbon neutral olive oil products. As such, ATLAS OLIVE OILS is one of the very first olive oil companies in the World to be certified carbon neutral according to the internationally recognized PAS2060 standard (certificate N°22/156).
So, additionally to having a healthy organic olive oil, when you're enjoying an ATLAS olive oil you are actually doing your bit for the environment.
ATLAS OLIVE OILS has long prided itself on a solid environmental policy and has carefully approached all aspects of its olive oil production process by adopting sustainable principles – from the organic olive orchards to the hands-on olive oil production procedures.
At ATLAS OLIVE OILS, we do more than good for our Planet!
Atlas
Proud of my Italian oils I had a little reticence in trying a Moroccan oil. With my big surprise I found it really delicious. I used it raw, but I've to admit, it's great for frying too. It has very hi smoke point that makes my 'fritto misto' lovely golden and crunchy. I highly recommend it!
Les Terroirs de Marrakech
I bought this oil as I was attracted by its elegant and unusual bottle. Such a precious container had to contain a very special product and I was right! The bottle on your table is a pleasure for your eyes and when you pour it, pervasive perfumes invites your dining companions to taste it and they feel privileged to savor such a rare nectar. My guests are special and I love being a perfect gracious hostess.
Desert Miracle
I discovered this great oil when looking for a good oil for my olive oil ice cream. It resulted to be the best one. Now I use it as a topping to add savory complexity to many of my sweet treats. Delicious!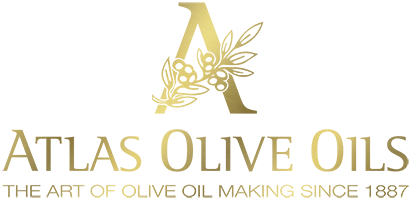 110 Bd. Yaacoub El Mansour, 20370 – Casablanca – Morocco
T. +212 522 981125 or 26 – F. +212 522 982485
info@atlasoliveoils.com