Launching of new line of products 100% natural : OLIVIE
The new OLIVIE line is 100% natural , extremely rich in polyphenols, powerful antioxidants and good fatty acids .
Its high concentration of polyphenols is due to the special circumstances of our olive trees grew .
The desert environment , the rocky soil and lack of water forced the olive trees to produce a high concentration of antioxidants to survive. With its natural active ingredients, OLIVIE is a real innovation capable of fighting against excess free radicals in order to restore balance to the body.
It comes in four new products :
OLIVIE 30X PLUS : An extra virgin Olive Oil concentrated in powerful antioxidants making it exceptional medicinal oil against many diseases of civilization the (A spoon of OLIVIE PLUS 30X equals 30 spoons of any conventional oil)
OLIVIE BABY / KIDS : An extra virgin olive oil specially adapted for babies and children.
High in omega 3 and omega 6 this oil helps in brain development , proper growth and bone formation , and fight against many childhood diseases so they can grow up healthy.
OLIVIE BEAUTY : A face cream certified organic by ECOCERT lightening , nourishing and anti -wrinkle thanks to its components such us the polyphenols of extra virgin olive oil.
OLIVIE FORCE/RICHE : The soft capsules full of beneficial molecules of olive oil in high concentration as well as vitamins and minerals for maintaining optimal health and the fight against many brain degeneration or immune diseases such as ALZHEIMER , PARKINSON , CANCER, PSORIASIS…
Atlas
Proud of my Italian oils I had a little reticence in trying a Moroccan oil. With my big surprise I found it really delicious. I used it raw, but I've to admit, it's great for frying too. It has very hi smoke point that makes my 'fritto misto' lovely golden and crunchy. I highly recommend it!
Les Terroirs de Marrakech
I bought this oil as I was attracted by its elegant and unusual bottle. Such a precious container had to contain a very special product and I was right! The bottle on your table is a pleasure for your eyes and when you pour it, pervasive perfumes invites your dining companions to taste it and they feel privileged to savor such a rare nectar. My guests are special and I love being a perfect gracious hostess.
Desert Miracle
I discovered this great oil when looking for a good oil for my olive oil ice cream. It resulted to be the best one. Now I use it as a topping to add savory complexity to many of my sweet treats. Delicious!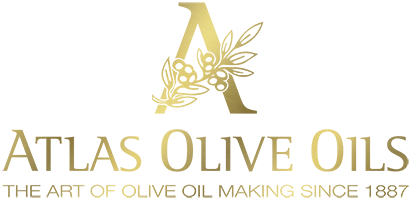 110 Bd. Yaacoub El Mansour, 20370 – Casablanca – Morocco
T. +212 522 981125 or 26 – F. +212 522 982485
info@atlasoliveoils.com