The best of
pure

Moroccan culinary culture.
Moroccan Extra Virgin Olive Oil
The best of pure Moroccan culinary culture.
Excellence can only be achieved when a product brings out the culture of people besides its intrinsic qualities. Our extra virgin olive oils are the fruit of passion and commitment which combine our oliverons family with a unique terroir for four generations. At Atlas Olive Oils we are proud to produce only ultra-premium extra virgin olive oils that express the best of pure Moroccan culinary culture.
Atlas
Proud of my Italian oils I had a little reticence in trying a Moroccan oil. With my big surprise I found it really delicious. I used it raw, but I've to admit, it's great for frying too. It has very hi smoke point that makes my 'fritto misto' lovely golden and crunchy. I highly recommend it!
Les Terroirs de Marrakech
I bought this oil as I was attracted by its elegant and unusual bottle. Such a precious container had to contain a very special product and I was right! The bottle on your table is a pleasure for your eyes and when you pour it, pervasive perfumes invites your dining companions to taste it and they feel privileged to savor such a rare nectar. My guests are special and I love being a perfect gracious hostess.
Desert Miracle
I discovered this great oil when looking for a good oil for my olive oil ice cream. It resulted to be the best one. Now I use it as a topping to add savory complexity to many of my sweet treats. Delicious!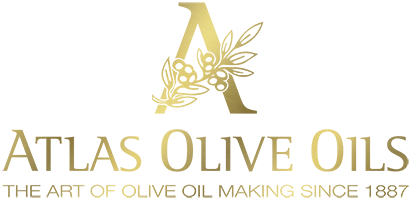 110 Bd. Yaacoub El Mansour, 20370 – Casablanca – Morocco
T. +212 522 981125 or 26 – F. +212 522 982485
info@atlasoliveoils.com