Steamed clams with chickpeas and green garlic
By Renee Erickson
Ingredients
2 tablespoons olive oil
2 green garlic bulbs, white and pale-green parts only, or 2 garlic cloves, thinly sliced
1/2 cup dry white wine
1 cup heavy cream
1 tablespoon fresh lemon juice
4 pounds Manila or littleneck clams, scrubbed
1 (15.5-ounce) can chickpeas, rinsed
1/2 cup crème fraîche
1/4 cup loosely packed dill
1/4 cup loosely packed tarragon leaves
Kosher salt, freshly ground pepper
3 (2×1-inch) strips lemon zest, cut lengthwise into thin strips
Grilled or toasted bread (for serving)
Preparation
Heat oil in a large skillet over medium. Cook garlic, stirring, until beginning to soften, about 2 minutes. Add wine, bring to a boil, and cook until reduced by half, about 3 minutes. Stir in cream and lemon juice. Add clams and chickpeas and increase heat to medium-high. Cover and cook, shaking occasionally, until clams open, about 5 minutes; discard any that don't open. Add crème fraîche and stir until melted into sauce. Add dill and tarragon; season with salt and pepper. Cook about 20 seconds to soften herbs. Top with lemon zest; serve with bread.
Atlas
Proud of my Italian oils I had a little reticence in trying a Moroccan oil. With my big surprise I found it really delicious. I used it raw to but, I've to admit, it's great for frying too. It has very hi smoke point that makes my 'fritto misto' lovely golden and crunchy. I highly recommend it!
Les Terroirs de Marrakech
I bought this oil as I was attracted by its elegant and unusual bottle. Such a precious container had to contain a very special product and I was right! The bottle on your table is a pleasure for your eyes and when you pour it, pervasive perfumes invites your dining companions to taste it and they feel privileged to savor such a rare nectar. My guests are special and I love being a perfect gracious hostess.
Desert Miracle
I discovered this great oil when looking for a good oil for my olive oil ice cream. It resulted to be the best one. Now I use it as a topping to add savory complexity to many of my sweet treats. Delicious!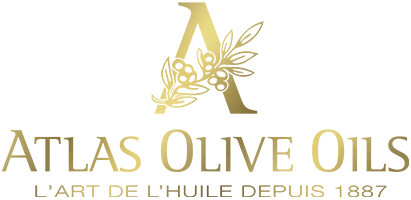 110 Bd. Yaacoub El Mansour, 20370 – Casablanca – Morocco
T. +212 522 981125 or 26 – F. +212 522 982485
info@atlasoliveoils.com